PENGARUH MODEL PEMBELAJARAN KOOPERATIF STUDENT FACILITATOR AND EXPLAINING (SFAE)TERHADAP PRESTASI BELAJAR SISWA PADA POKOK BAHASAN HIDROKARBON DI KELAS XI MIPA SMAN 1 INUMAN
Keywords:
Model Pembelajaran Kooperatif, Student Facilitator and Explaining (SFAE), Prestasi Belajar Siswa
Abstract
This research represent research of experiment with type of quasi design experimental with research form owning group control etapi [do] not function fully to control external variables which influence execution of experiment. Target of this research to influence Model Study Of Co-Operative of Student Facilitator Explaining and ( SFAE) To Achievement Learn Student [At] Fundamental Discussion Hydrocarbon [in] Class of XI MIPA SMAN 1 Inuman. this research [of] background by lowering of achievement learn educative [by] participant [at] study of chemistry, this matter [is] caused by some of educative [by] participant less participating in study and unable to lay open idea or [his/its] opinion at the (time) of study process. As for sampel of this research that is class of XI MIPA, where class control [is] class of XI MIPA 1 while experiment class [is] class of XI MIPA 2. Pursuant to result of research obtained [by] that there is difference which [is] signifikan [among/between] achievement mean learn student [at] hydrocarbon items [among/between] class applying model study of Student Facilitator Explaining and and class control with value of sig ( 2-tailed) equal to its 0,049 meaning. 0,0049 < 0,05. As for value mean evaluate experiment class that is equal to 86,37 while value mean evaluate class control that is equal to 81,65.


Downloads
Download data is not yet available.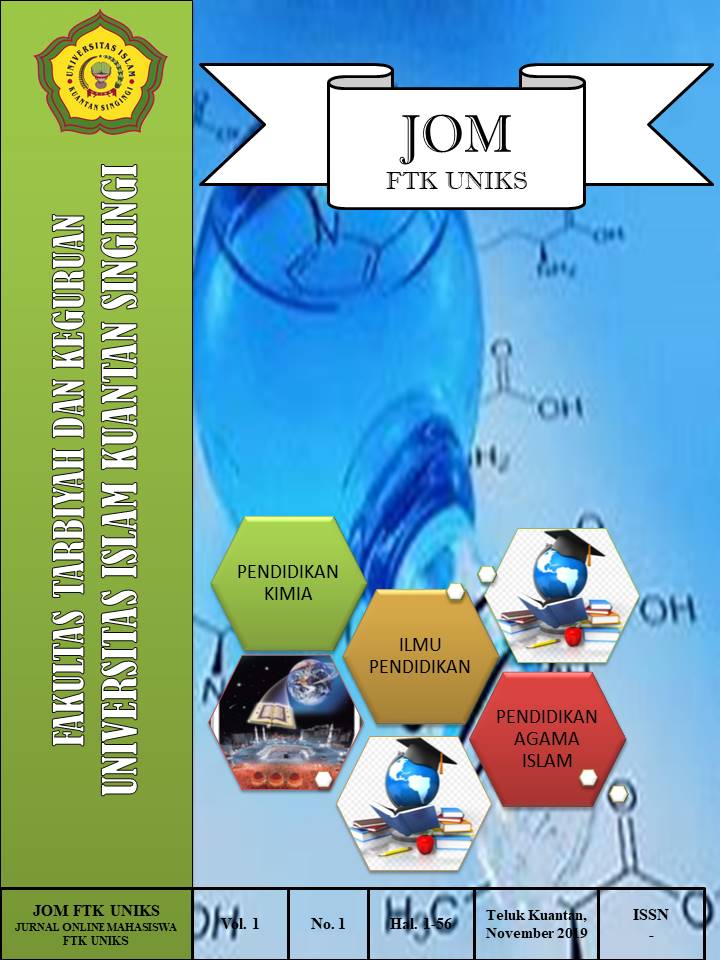 How to Cite
Alpindo, A. (2020). PENGARUH MODEL PEMBELAJARAN KOOPERATIF STUDENT FACILITATOR AND EXPLAINING (SFAE)TERHADAP PRESTASI BELAJAR SISWA PADA POKOK BAHASAN HIDROKARBON DI KELAS XI MIPA SMAN 1 INUMAN. JOM FTK UNIKS (Jurnal Online Mahasiswa FTK UNIKS), 2(1), 1-10. Retrieved from https://ejournal.uniks.ac.id/index.php/JOM/article/view/1029