ANALISIS PELAKSANAAN PENILAIAN SIKAP SPIRITUAL PADA MATA PELAJARAN PAI DAN BUDI PEKERTI (Studi Deskriptif Kurikulum 2013 di Kelas X IPA 1 SMAN 1 Benai)
Keywords:
Penilaian Sikap Spiritual
Abstract
Based on preliminary observations in Class X Science 1 of SMA Negeri 1 Benai, the following symptoms were found: 1) PAI teachers and Budi Pekerti had difficulty conducting competency assessments of spiritual attitudes. 2) The teacher has difficulty in observing individual students' spiritual attitudes. 3) The teacher has difficulty arranging the time to assess students' spiritual attitudes. 4) Teachers find it difficult to evaluate spiritual attitudes that are integrated with the material being taught. 5) The teacher lacks cooperation with parents and students in assessing spiritual attitudes. 6) The assessment of spiritual attitude is only borne by the teacher of PAI and Budi character studies. This study aims to determine the process of carrying out the assessment of spiritual attitudes of students on PAI and Budi Pekerti subjects in Class X Science 1 of SMA Negeri 1 Benai. This type of research is a qualitative descriptive analysis with data collection techniques of observation, interviews and documentation. The data technique uses Miles and Huberman analysis. The results showed that the PAI and Budi Pekerti subject teachers in Class X IPA 1 of SMA Negeri 1 Benai had carried out an assessment of the spiritual attitude of students in class X IPA 1, and the results of this assessment were reported once every semester. However, the implementation of this spiritual attitude assessment has not yet proceeded according to 2013 curriculum requirements.


Downloads
Download data is not yet available.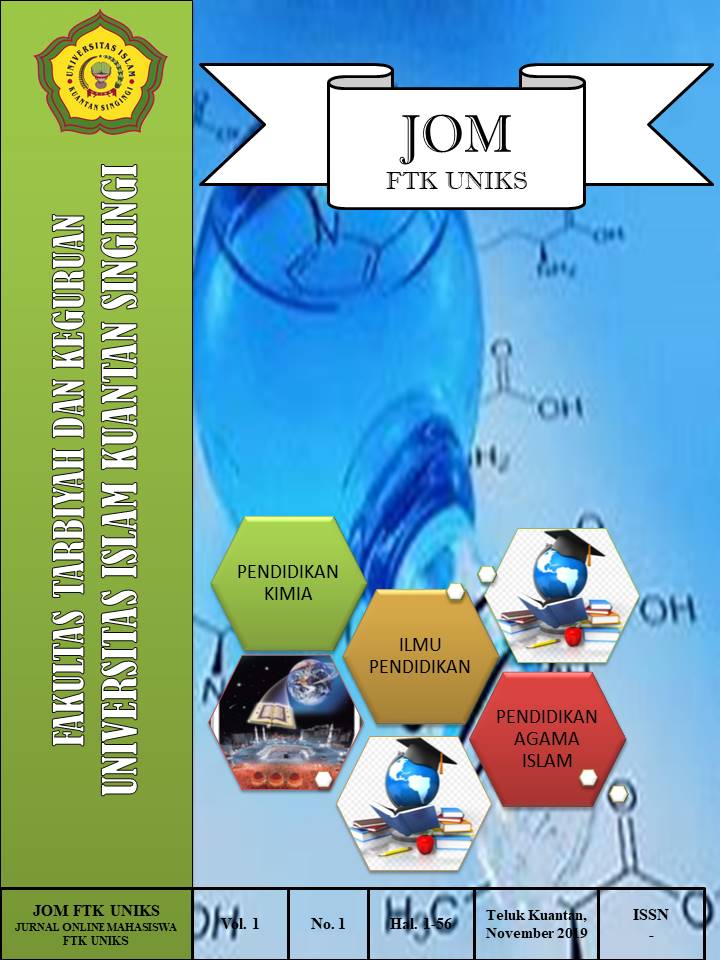 How to Cite
Usfa, F. (2020). ANALISIS PELAKSANAAN PENILAIAN SIKAP SPIRITUAL PADA MATA PELAJARAN PAI DAN BUDI PEKERTI (Studi Deskriptif Kurikulum 2013 di Kelas X IPA 1 SMAN 1 Benai). JOM FTK UNIKS (Jurnal Online Mahasiswa FTK UNIKS), 2(1), 11-20. Retrieved from https://ejournal.uniks.ac.id/index.php/JOM/article/view/1030