PERAN PROGRAM TAHFIDZ QUR'AN DALAM MEMBENTUK AKHLAK PADA SANTRI DAN SANTRIYAH PONDOK TAHFIDZ DAR AL-QUR'AN AL-KARIM MESJID MAKKAH SYEKH ALI INDRAGIRI SIMPANG TIGA TELUK KUANTAN
Keywords:
Tahfidz Qur'an, Akhlak
Abstract
This research aims to know how the role of this Qur"an Tahfidz program in forming morality. This type of research is qualitative descriptive, with the techniques of data collection documentation, interviews, and observations. As well as SWOT analysis and engineering techniques presented by Miles and Huberman. After analysis can be concluded that the role of the Qur"an Tahfidz Program in shaping the character of a good role and a portion that is strong enough to form morality. Judging from all activities Tahfidz Qur"an program already includes five things the process of moral formation. Starting from Qudwah or Uswah, Ta'lim (teaching), Ta'wid (habituation), Targhib/Reward (awarding) and Tarhib/Punishment (giving Threat or punishment). Based on the results of the SWOT analysis can also be concluded that, the chances of the by better be compared to the threat, so the level towards greater success so as to suppress the weaknesses and threats that exist.


Downloads
Download data is not yet available.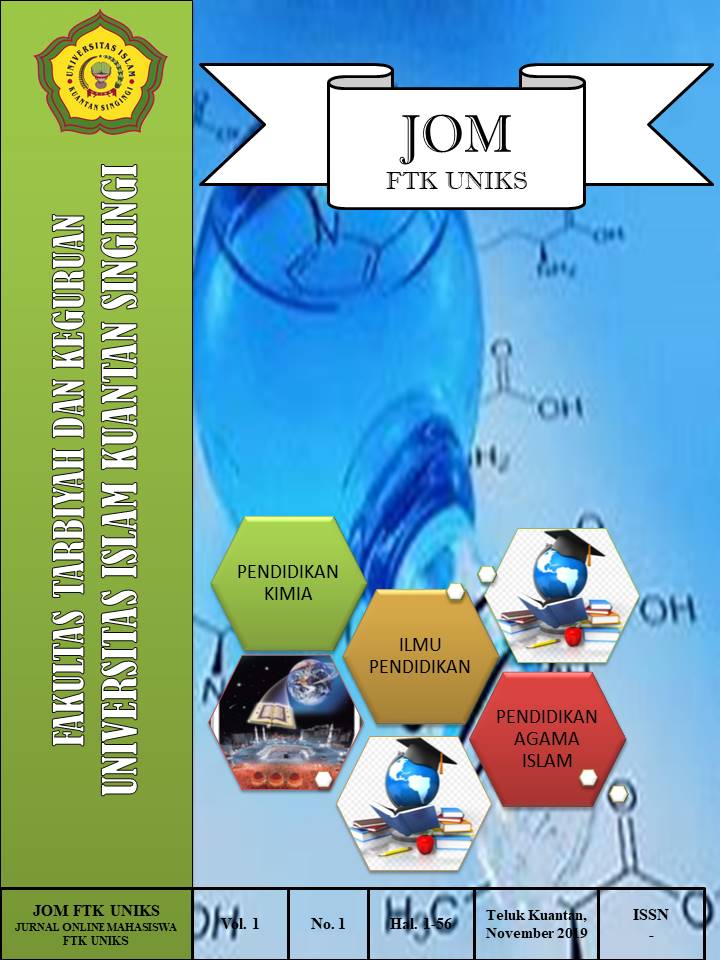 How to Cite
Bascer, B. (2020). PERAN PROGRAM TAHFIDZ QUR'AN DALAM MEMBENTUK AKHLAK PADA SANTRI DAN SANTRIYAH PONDOK TAHFIDZ DAR AL-QUR'AN AL-KARIM MESJID MAKKAH SYEKH ALI INDRAGIRI SIMPANG TIGA TELUK KUANTAN. JOM FTK UNIKS (Jurnal Online Mahasiswa FTK UNIKS), 2(1), 53-62. Retrieved from https://ejournal.uniks.ac.id/index.php/JOM/article/view/1034