PENERAPAN METODE DEMONSTRASI UNTUK MENINGKATKAN HASIL BELAJAR SISWA PADA MATERI SHOLAT JENAZAH DALAM MATA PELAJARAN PENDIDIKAN AGAMA ISLAM DAN BUDI PEKERTI PADA KELAS XI TKJ DI SMK NEGERI 1 KUANTAN MUDIK
Keywords:
Metode Demonstrasi, Hasil Belajar Siswa.
Abstract
Method [is] the way of important in study so that the student feel interested to follow taught Iesson. Method Demonstrate [is] a[n way of presentation in course of learning to teach with show [of] about way of [doing/conducting] something joined with clarification visually from clear process so that will be more easy to in submitting Iesson items. SMK of Country 1 Pestle Go upstream specially class of XI TKJ [of] [at] items of sholat of corpse found [by] some symptom that is : result learn student which still lower, student less be active in course of study, student only look on teacher of moment of study [of] because method used lose looks, and also the inexistence applied [by] practice of procedures of sholat corpse. One of method of study which can be applied to increase result of learning the student [is] method Demonstrate. Type Penelltian [is] Class Action Research Technique [of] data collecting used [by] [is] observation, tes, interview, and documentation. Result of research indicate that happened [by] improvement [of] result of learning student [of] [at] items sholat corpse in religion islam ethic kindness and education subject [in] SMKN 1 Pestle Go upstream. This Matter [is] proved from visible Cycle Pre only 50% the student which is result of learning nya categorized complete, cycle I mount to become 80%, and cycle II also experience of very improvement gratify that is 100% student which is result of learning nya have been categorized complete ( above KKM).
Downloads
Download data is not yet available.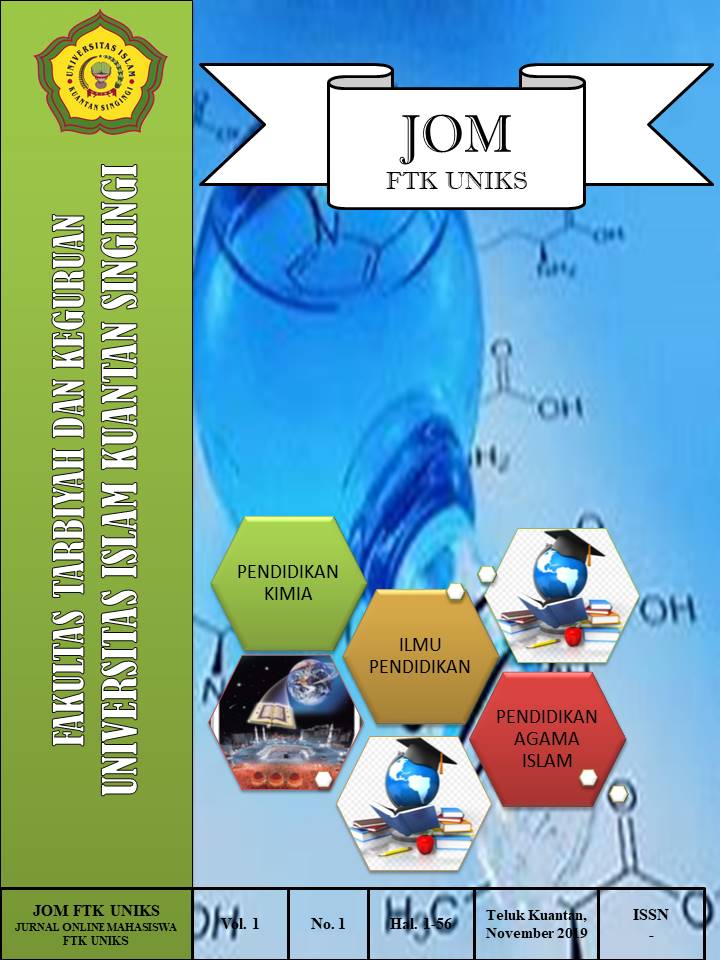 How to Cite
Anggina, N. (2020). PENERAPAN METODE DEMONSTRASI UNTUK MENINGKATKAN HASIL BELAJAR SISWA PADA MATERI SHOLAT JENAZAH DALAM MATA PELAJARAN PENDIDIKAN AGAMA ISLAM DAN BUDI PEKERTI PADA KELAS XI TKJ DI SMK NEGERI 1 KUANTAN MUDIK. JOM FTK UNIKS (Jurnal Online Mahasiswa FTK UNIKS), 2(1), 128-137. Retrieved from https://ejournal.uniks.ac.id/index.php/JOM/article/view/1042