PENGARUH MODEL PEMBELAJARAN JIGSAW PADA MATERI HIDROKARBON KELAS XI MIPA (SMA N 1 Cerenti)
Ramadanil Putri Yanti

Asregi Asril

Universitas Islam Kuantan Singingi

Dwi Putri Musdansi

Universitas Islam Kuantan Singingi
Keywords:
Model Pembelajaran Jigsaw, Hasil Belajar, Hidrokarbon
Abstract
This study aims to determine student learning outcomes in Hydrocarbons material in class XI MIPA SMA Negeri 1 Cerenti. This research as a quantitative research type of quasi-experimental designwith posttets-only control design experimental design. The sample in this study were students of class XI MIPA 4 as an experimental class and class XI MIPA 1 as a control class. The sampling technique was cluster random sampling. This study used the Kolmogorov-Smirnov test. In this study usung the "t" test that is independent sample t-test. Based on the results o the final hypothesis test which was analyzed using thee independent sample test, the significance value (2-tailed) was obtained is 0,000<0,05. Because thi study uses 1-tailed, the significance value is 2-tailed = 0,000<0,05 so that H0 is rejected. The final test results obtained Sig (1-tailed) is 0,000 < 0,05 which mean H0 was rejected. It can be concluded that the learning outcomes of chemistry using the Jigsaw learning model was better which do conventional learning.
Downloads
Download data is not yet available.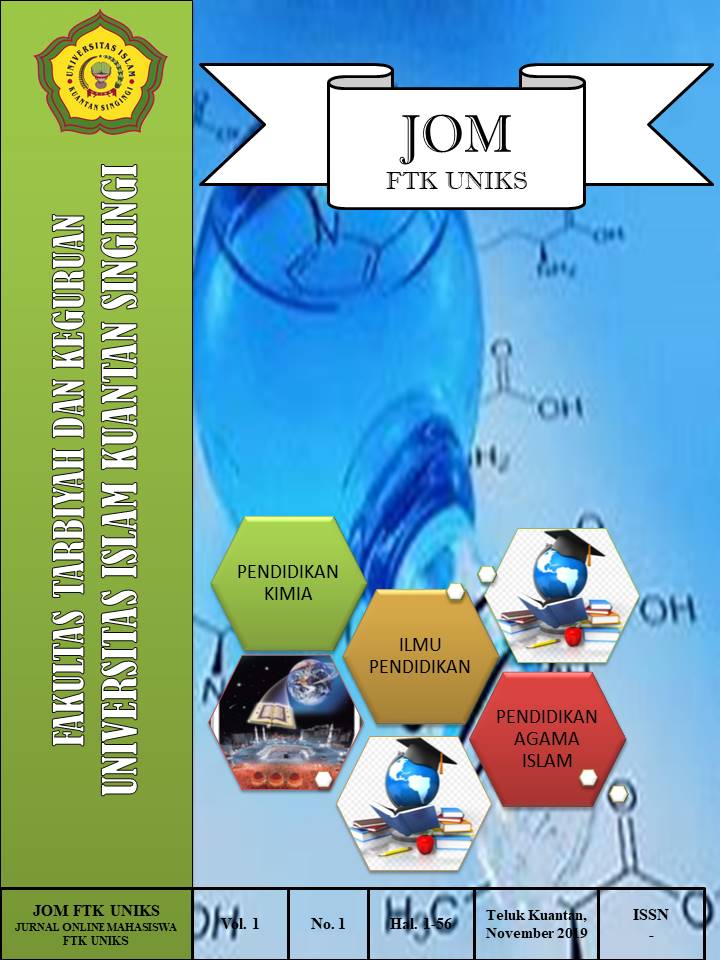 How to Cite
Yanti, R., Asril, A., & Musdansi, D. (2020). PENGARUH MODEL PEMBELAJARAN JIGSAW PADA MATERI HIDROKARBON KELAS XI MIPA (SMA N 1 Cerenti). JOM FTK UNIKS (Jurnal Online Mahasiswa FTK UNIKS), 2(1), 138-148. Retrieved from https://ejournal.uniks.ac.id/index.php/JOM/article/view/1043