IMPLEMENTASI SMS GATEWAY SEBAGAI SISTEM INFORMASI KEUANGAN SISWA (STUDI KASUS : SMP NEGERI 6 SINGINGI HILIR)
Dewi Laraswati

Universitas Islam Kuantan Singingi

Elgamar Syam

Universitas Islam Kuantan Singingi
Keywords:
Information System, Payment, SMS Gateway
Abstract
The school is one of the many sectors that have experience the development of information technology. Because one of the conditions for raising grades in certain schools is technology based facilities. In this case, SMPN 6 Singingi Hilir require a financial information system that can process student payments, convey information about student finances and can process reports. To overcome these problems need to be made a computerized information system. The research method used is the method of data collection  by means of interviews and observations. While the system development methodology uses SDLC (System Development Life Cycle). Analysis and design tools used are structured data, like use case diagram, sequence diagram, Activity diagram and class diagram. The appilication program used is Java Netbeans IDE and database used is MySQL. The research is expected to produce a financial information system for students who can help optimally.
References
Abidin, R., & Kuncoro, A. A. (2015). Aplikasi Pembayaran SPP di Lingkungan Yayasan Az-Zahra Demak Berbasis Client Server Terintegrasi dengan SMS Gateway. JURNAL ELEKTRONIKA DAN KOMPUTER, 8(1).
Afrina, M., & Ibrahim, A. (2015). Pengembangan Sistem Informasi SMS Gateway Dalam Meningkatkan Layanan Komunikasi Sekitar Akademika Fakultas Ilmu Komputer Unsri. Jurnal Sistem Informasi, 7(2).
Gede, M. I. (2015). Perancangan SMS Gateway untuk Sistem Informasi Manajemen Keuangan STMIK STIKOM Bali. Proceedings Konferensi Nasional Sistem dan Informatika (KNS&I).
Haviluddin, H. (2016). Memahami Penggunaan UML (Unified Modelling Language). Informatika Mulawarman: Jurnal Ilmiah Ilmu Komputer, 6(1), 1-15.
Masruri, M. H., & Creativity, J. (2015). Membangun SMS Gateway dengan Gammu & Kalkun. Elex Media Komputindo.
Sardiarinto, S. (2014). APLIKASI SMS GATEWAY UNTUK KEAMANAN SISTEM INFORMASI BERBASIS WEB. Bianglala Informatika, 2(1).
Shodikun, A., & Syam, E. (2018). PEMBANGUNAN SMS GATEWAY HASIL PEMERIKSAAN UJIAN SEKOLAH BERBASIS WEB PADA MA BAHRUL ULUM SINGINGI. JURNAL TEKNOLOGI DAN OPEN SOURCE, 1(2), 1-12.
Sihotang, F. P., & Jumeilah, F. S. (2017). Pengembangan SMS Gateway Layanan Informasi Akademik di STMIK GI MDP. Jurnal Rekayasa Sistem dan Teknologi Informasi, 1(1).
Sihotang, H. T. (2018). Sistem Informasi Pengagendaan Surat Berbasis Web Pada Pengadilan Tinggi Medan. Journal Of Informatic Pelita Nusantara, 3(1).
Supriyono, H., Saputro, N. A., & Pradessya, R. A. (2016). Rancang Bangun Sistem Informasi Manajemen Presensi Berbasis SMS Gateway (Studi Kasus: SMP Muhammadiyah 1 Kartasura).
Suryana, T., & Indonesia, I. K. U. K. (2012). SMS Gateway Kannel Sebagai Sarana Penunjang Informasi Akademik. Jurnal Ilmiah Komputer dan Informatika (KOMPUTA), 1(2), 17-30.
Sutabri, T. (2012). Analisis sistem informasi. Penerbit Andi.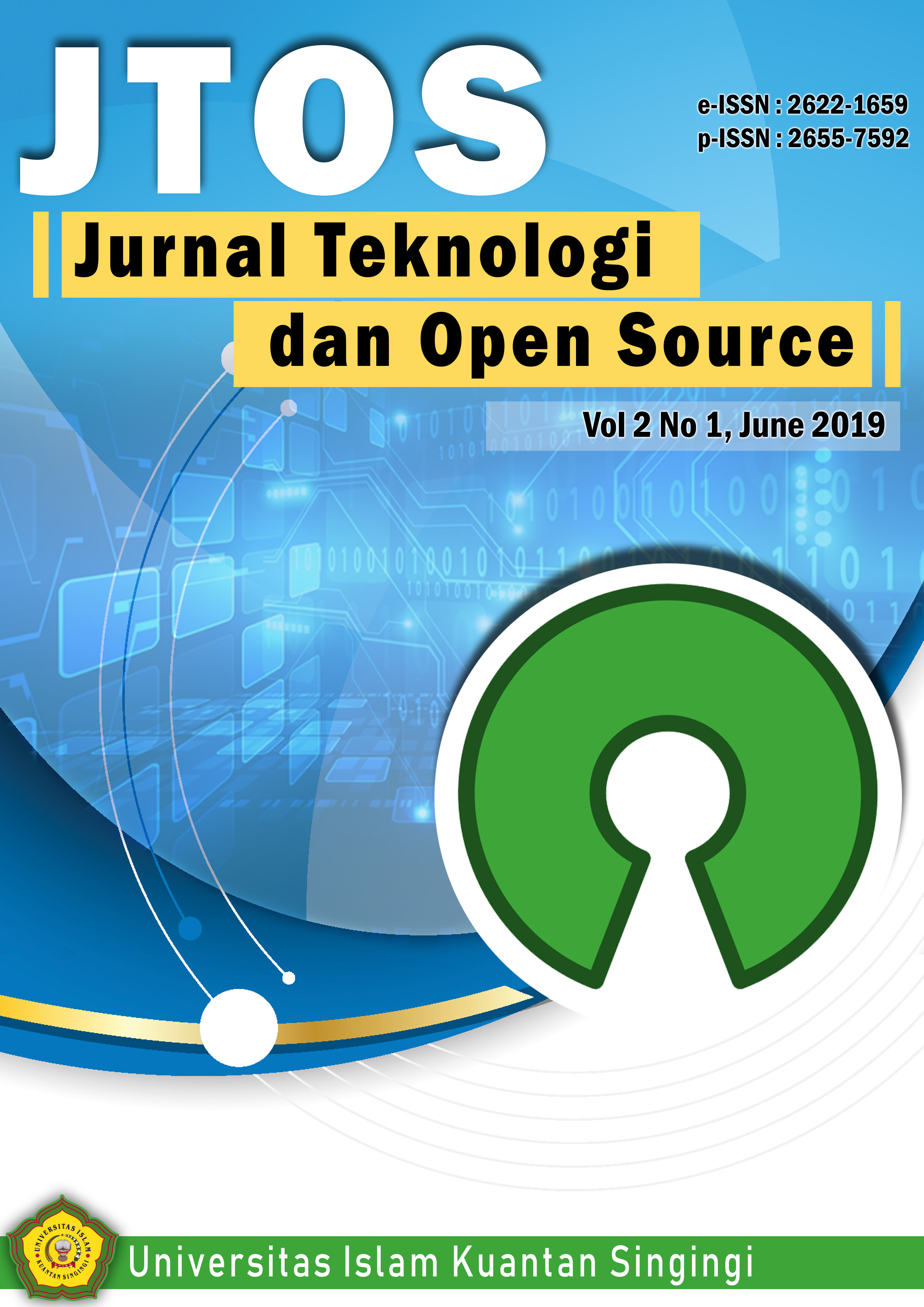 Copyright (c) 2019 JURNAL TEKNOLOGI DAN OPEN SOURCE
This work is licensed under a Creative Commons Attribution-NonCommercial-NoDerivatives 4.0 International License.
The Authors submitting a manuscript do so on the understanding that if accepted for publication, copyright of the article shall be assigned to journal Teknology and Open Source , Universitas Islam Kuantan Singingi as publisher of the journal, and the author also holds the copyright without restriction.
Copyright encompasses exclusive rights to reproduce and deliver the article in all form and media, including reprints, photographs, microfilms and any other similar reproductions, as well as translations. The reproduction of any part of this journal, its storage in databases and its transmission by any form or media, such as electronic, electrostatic and mechanical copies, photocopies, recordings, magnetic media, etc. , are allowed with a written permission from journal Teknology and Open Source , Universitas Islam Kuantan Singingi.
Teknology and Open Source , Universitas Islam Kuantan Singingi, the Editors and the Advisory International Editorial Board make every effort to ensure that no wrong or misleading data, opinions or statements be published in the journal. In any way, the contents of the articles and advertisements published in the journal Teknology and Open Source , Universitas Islam Kuantan Singingi are sole and exclusive responsibility of their respective authors and advertisers.